Welcome to the Dealer Hub
Have you ever just wanted all your separate software packages to share data and talk to each other,
to be like one big software application that runs your dealership!

Welcome to DealerHub, its sole purpose is to transact data between any systems willing to connect.
The dealer hub is a product that allows sales leads / vehicle /customer information to be exchanged between third party applications such as websites / SLM / CRM / DMS systems for the automotive software market.
The dealer hub can be used by third parties to get data such as vehicle information, customer data records etc. or it can receive data from websites / CRM / DMS systems wanting to pass on data for reporting purposes to manufacturers or dealer groups, or to pass to another third party system.
The hub has been created to link to stand alone applications to allow them each to complement another product in the automative space by offering existing more funcationality to the dealer by integrating systems.
The DealerHub is primarily a large bank of web services. These web services can be used by your technical developers to pass any form of data between applications, assuming the application you want to pass to / from is also willing to allow you to do so. There are no technical reasons anymore to the question, "Can I link my system to another other system?", the only barriers now are political reasons put up by the software manufacturers, i.e, they might not want to link to another system for various reasons. But technically, we can link to any software product and exchange data.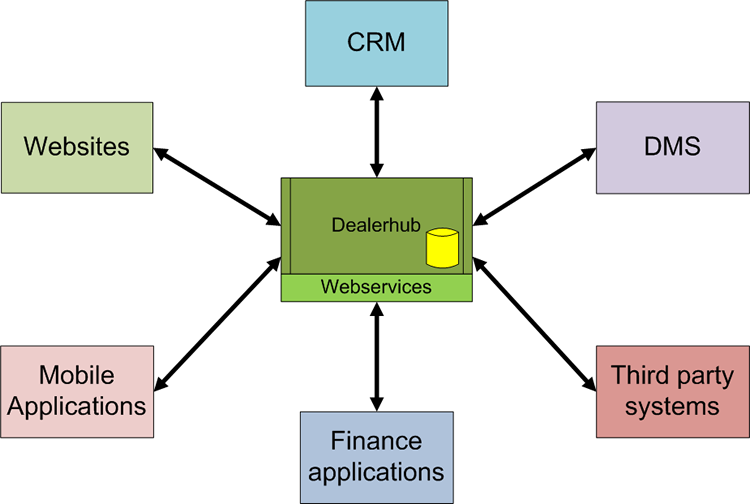 Lead Distribution
The dealerhub specialises in passing sales lead data from websites / call centres or any other source, and passing it into a sales lead management system or DMS / CRM system.
We try to make it very simple for developers to integrate with us, so when passing a lead they can use websites, or post values from a form on a webpage straight into the hub, or we can pick up emails and add any customer data found in the emails into a lead on the dealerhub.
The system then pushes the lead into another system such as AutoSLM or e-GoodManners where the push is available, or it allows other lead systems to contact the dealerhub and pull the data on an automated routine, for example, once every 10 minutes.
Where the system is being used in a large group or manufacturer and not ever retailer has an electronic system. We also provide a web page interface to login and collect your leads. This is available to customer with automated system as well, just as a backup incase your DMS / CRM system is offline for any reason.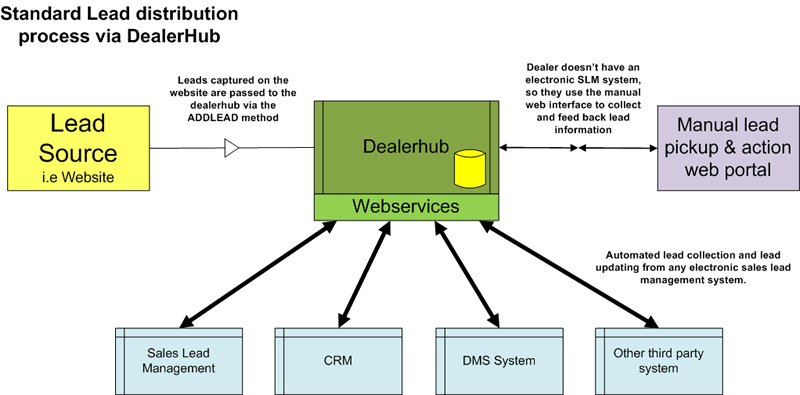 Linking a lead management system to a third party such as a finance app
The dealerhub allows linking of most systems, but here we have an example of how you would pass customers from your lead management system or CRM into the DealerHub and out you third party application to have some information added, such as a finance deal stacker, and then pass the updated customer information back into your lead management system again. This method can be used to pass information to and from a DMS system as well.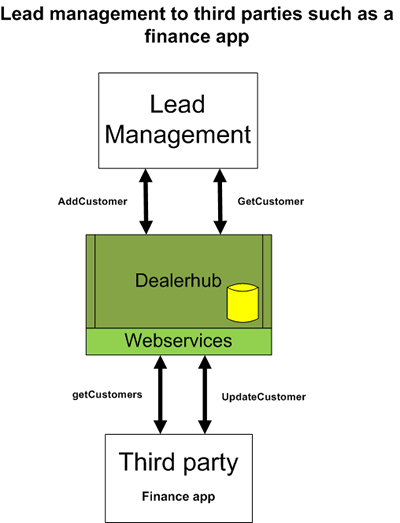 Vehicle / Stock Management
The dealerhub allows all your stock vehicles, new and used, to be passed to third party systems such as Sales Lead Management systems, or passed to third party websites such as AutoTrader or Motors4 through the DealerHub. We offer a webservice called, ADD VEHICLE, your developers just call this webservice passing each through your stock vehicles usually from a DMS system or your website management agency. We can also accept FTP file drops on a daily basis instead of using the Add Vehicle webservice if that is prefered by your development team.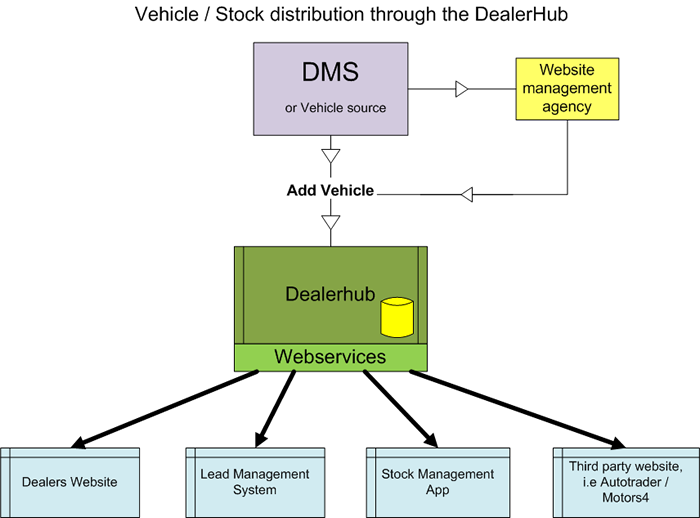 Online Test Drive Booking
With the dealerhub you can easily add additional functionality to your website to allow customers to book demo vehicles from your fleet. If you sales lead management system has a demo booking system. AutoSLM and EGM have these features, then you can add all your demo vehicles and make them available to the web for customers to book slots. If you book a slot on your SLM system it will block out that slot so it can't be double booked by your website, and vise versa.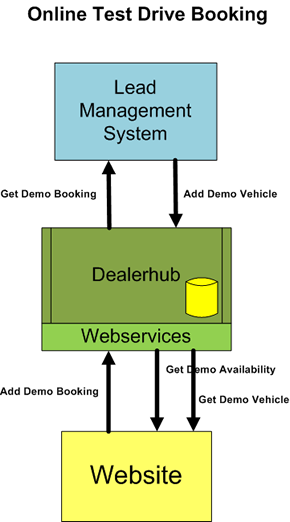 Hub Reporting Services
If you are a group of dealers or a manufacturer with different parts of the business all on different system. You can use the dealerhub to collect all the customer and activity data from your dealers to bring it together in 1 central reporting suite. We have a fantastic web based reporting suite that collates dealers activity and customer data over any date range and any geographical area i.e countries / zones / regions / areas can all be configured very easily using our interface.
The third party systems, usually sales lead management systems or DMS system will pass customer and activity data into the hub. We will then add the data to a data warehouse and allow you to run reports against anything we have collected. Custom report generation specific to your group / brand is available at an extra cost.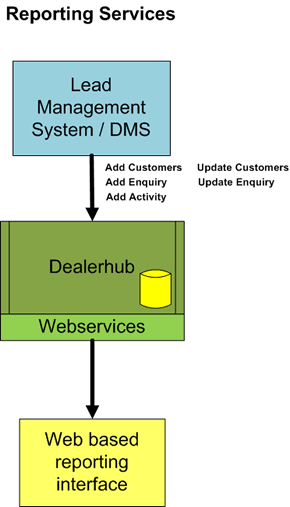 What webservices can you offer me?
We currently have a large range of webservices available for consumpution by your existing applications, but if you need any custom building for you we are happy to accomodate your request, please just fill in your details via the contact form and we will get back to you as soon as we can.
Click here to answer a simple question about your business, and we will show you a list of recommended webservices to allow you to integrate with us.