Back
What webservices can you offer me?
Hub Reporting Services
If you are a group of dealers or a manufacturer with different parts of the business all on different system. You can use the dealerhub to collect all the customer and activity data from your dealers to bring it together in 1 central reporting suite. We have a fantastic web based reporting suite that collates dealers activity and customer data over any date range and any geographical area i.e countries / zones / regions / areas can all be configured very easily using our interface.
The third party systems, usually sales lead management systems or DMS system will pass customer and activity data into the hub. We will then add the data to a data warehouse and allow you to run reports against anything we have collected. Custom report generation specific to your group / brand is available at an extra cost.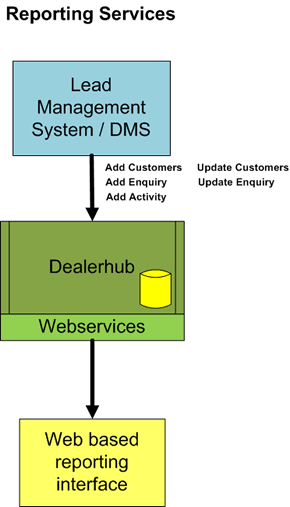 | Webservice Method | Webservice Description |
| --- | --- |
| addcustomer | This method allows you to add a new customer record to the system |
| updatecustomer | This method will update all or part of a customer record when passed the customer id. |
| addenquiry | This method will add a new vehicle enquiry against the customer record |
| updateenquiry | This method will allow you to update an existing enquiry record |
| addactivity | This method will allow you to add activity records against the customer enquiry |
| getcustomer | This method returns all the customer and enquiry data when passed a custid value. |
| getreportactivity | This method returns the raw reporting data so it can be manipulated in another system to produce graphs and charts. |
| getstaff | This method returns all the members of staff at a specific dealer |
| addstaff | This method allows you to add a member of staff to the system |
| getdealers | This method allows you to pass in your access code, and it returns a list of dealers & dealercodes that you have access to under your account |